Happy Saturday, polished pretties!! I was running to my normal beauty supply on my lunch break to get the Mariah Carey OPI collection (which I should have swatches up on Monday of those beauties!) and I noticed that they had a display of the upcoming Euro Centrale collection that's coming out in the Spring. This is another collection that has made me do grabby hands ever since I saw the promo pics that came out a while ago.
Read more for the picture of the swatches and names of the colors!
Sorry for the quality of the picture, but I had to take it with my iPhone.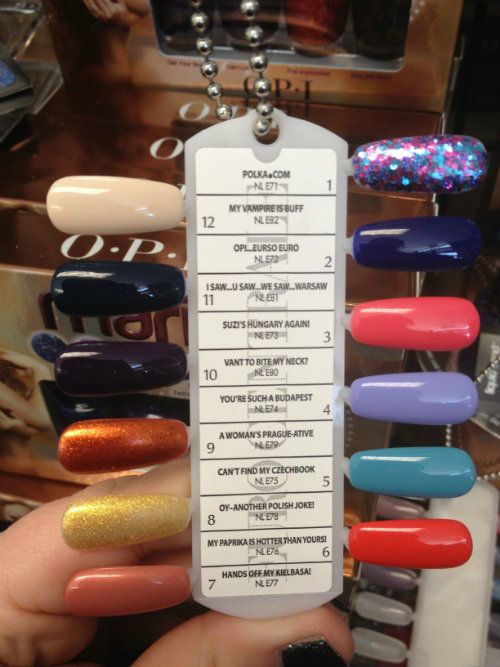 Going from top to bottom the colors are: Polka.com, My Vampire is Buff, OPI...Eurso Euro, I Saw... U Saw... We Saw... Warsaw, Suzi's Hungary Again!, Vant to Bite My Neck, You're Such a Budapest, A Woman's Prague-ative, Can't Find My Czechbook, Oy-Another Polish Joke!, My Paprika is Hotter Than Yours!, Hands Off My Kielbasa!
I always like seeing the polishes on swatches in real life more than seeing pictures on the internet. I have a feeling that I'll be getting possibly 9 out of the 12 colors. Do you see any colors that you're dying to get? (I'm personally loving You're Such a Budapest!)
XOXO Jessica