Hello polished pretties!! So this is my first official nail polish post! Like I said in the previous entry, this is the first collection that made me start to collect seriously and began my involvement in the nail polish blogging world by looking for swatches. With that being said, I haven't worn this collection really at all since I got it, save for Fly a couple of times and maybe Metallic 4 Life once. Strange how that works out sometimes...
Read on for the reviews and swatches of the collection!
After looking at my pictures that I took of the swatches, I realize that there are some things I'm going to work on for my next batch of swatches. Mainly, investing in a lightbox, working on the focus of the lens, and watermarks. On to the swatches!!
This collection is made up of six different shades and was released at the beginning of 2012. I picked up five out of the six shades. All of the pictures are taken in natural sunlight and with no top coat.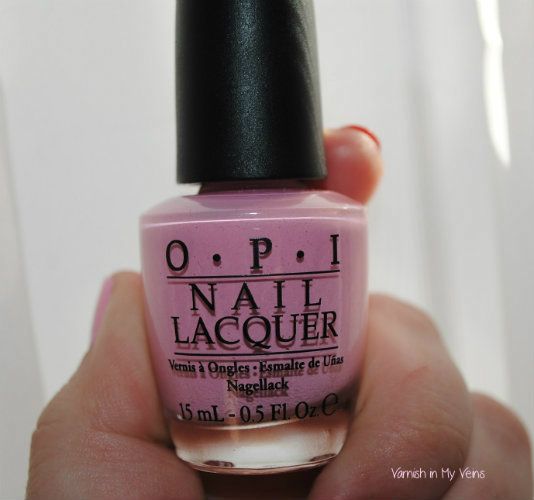 First up is Pink Friday. This is a light pink creme. I wasn't a huge fan of the application on this one. The first coat came out streaky and the second one mostly evened out, there are a few bald spots. The formula on this one was on the thin side, which I quite liked.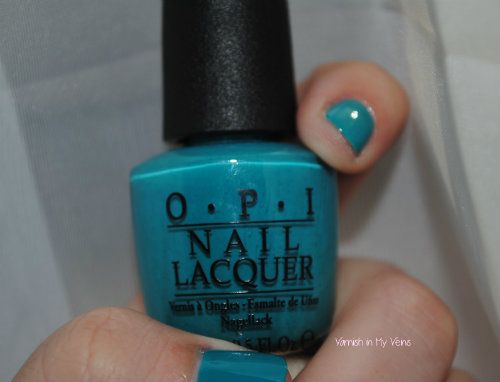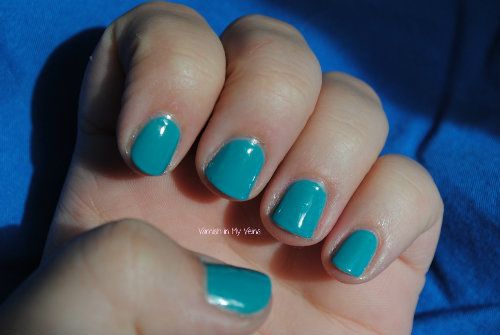 Second one in the collection is Fly. I absolutely love this color!! To me, it seems like a good late spring/summer color. This color is a turquoise creme, basically opaque in two coats. Just like Pink Friday, the first coat was streaky, but on the second coat, there was no bald spots! The formula on this one was thin and watery, but nothing too horrible.
Third on my list is Save Me. I'm not a huge fan of bar glitter, so this doesn't really make me go crazers or anything. This is a gold and turquoise bar glitter with silver glitter suspended in a clear base. You could build this up to opaque if you really tried, but you may wind up with a crazy amount of polish on your nails. And I'm not sure that it was because the polish has been sitting for a year in my Melmer but WOW this was crazy thick. I think that worked to my advantage though since it was definitely easier to get a good amount of glitter on the nail.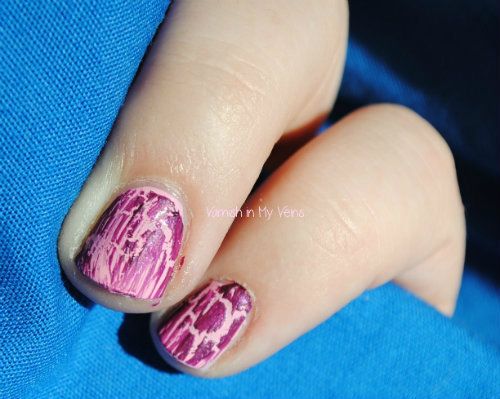 Super Bass Shatter over Pink Friday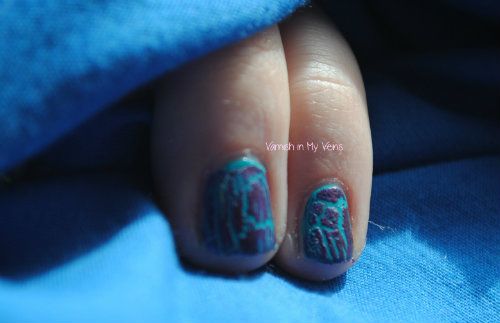 Super Bass Shatter over Fly
Fourth in the collection is Super Bass Shatter. Out of all the shatters that I own, this one is probably my favorite. Once again, I haven't worn it much since I got it. This is a medium purple shatter. The formula on this was decently thick, but once again I think it may have been because it's been sitting for a year. It didn't dry to a real shiny finish, which you can see in the picture with Pink Friday.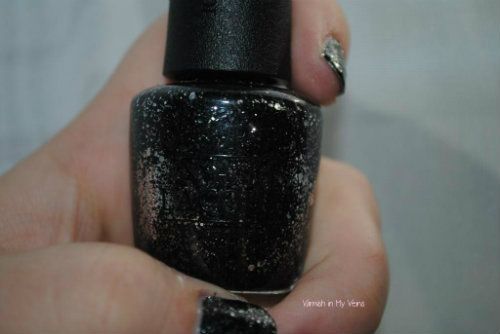 The final shade that I picked up from this collection is Metallic 4 Life. I love this color! To me, it's the absolute perfect New Year's shade. This is a black base with silver hex glitter and smaller pieces of silver glitter throughout. The first coat of this was thin, but the second one more than made up for it. I've actually been wearing this on my nails since I swatched it and so far, no chips! Especially since I type all day at my job, that's an accomplishment for any polish. The formula on this one was on the thick side, but I like my glitters a bit thick.
Overall, this collection was pretty good. I feel like there was a little something for everyone and they weren't quite your run of the mill colors, except for Pink Friday and Fly.
Did you get anything from this collection when it came out?
XOXO Jessica